ABH110v-50w/10PS debuts!
We were callange the limit of the Air Blow heater.The breeze heating for 250 cc=0.25 liter per minute which was impossible until now was realized.
For the oxygen shield of semiconductor heating
For the oxygen shield of brazing and soldere
For the air transport of powder metal 3D printer
For the gas heating of medical equipment
For the pre-heating of the film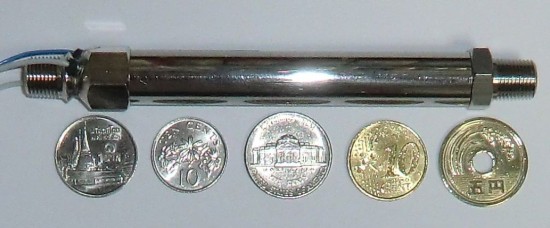 < ABH110v-50w/10PS/L81/+S with M12-R1/8 as optional parts >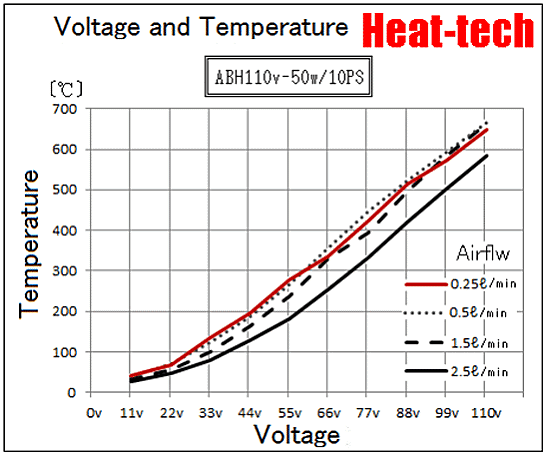 *1 Heating wires are used in Air Blow Heater has the most durable in the oxidizing atmosphere.
ABH types are in direct contact with the gas so that the heating wire, high heat transfer efficiency,
high temperature (800 ℃ approximately) can be obtained.
*2 ABH type is used for argon and nitrogen, compared to the air life tend to be shorter.
Hot air blow output
Screw for attachment
Thermocouple for output air temperature
Metal case stainless SUS304
Heat tube Quartz glass
Heat element Fe-Cr-Al alloy
Thermocouple for heat element
Insulation Alumina ceramics
Mount base Steatite
Insulating silicon rubber
Power wire Glass cloth or Silicon rubber
Thermocouple for output air Glass cloth or Silicon rubber
Thermocouple for heat element Glass cloth or Silicon rubber
Air input connector Nickel plated Brass