HPH-60 is the Halogen Point Heater that achieves high-temperature heating to concentrate the light of the halogen lamp.
Since this heater is equipped with air-cooling fan of DC24v, it is easy to use.
Point size is about φ5 mm at FocalLength15mm.
Can be heated up to about 1000 ℃-1400℃ depending on the heating object.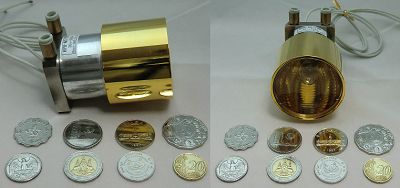 Irradiation distance and irradiation diameter
The picture below shows the state of irradiation with HPH-60 / f30 / 24v-150w (model with a focal length of 30 mm), with different irradiation distances.
Even if the irradiation distance is nearer than the focal length or it is far, the condensing diameter will become larger.
If user use this property, it will not be uniform irradiation but it is also possible to irradiate a relatively wide range.
When strictly uniform light distribution is required, it is not a simple elliptical mirror, but a mirror designed and controlled specifically for light distribution is required.
However, since the filament of the light source has a three-dimensional shape and its imaging focus is also three-dimensional, planar uniform light distribution is very difficult.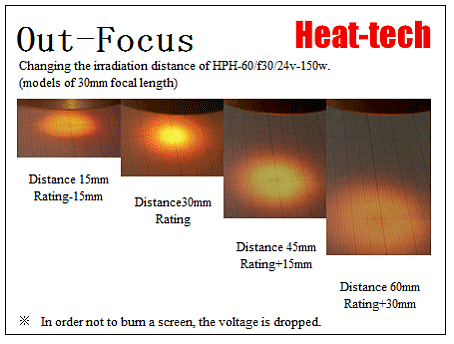 Focal length and focus diameter of the Halogen Pont Heater HPH-60/f30

Focal length and focus diameter of the Halogen Pont Heater HPH-60/f60

Focal length and focus diameter of the Halogen Pont Heater HPH-60/f105