If the focus position of a condensing type halogen line heater is shifted, field heating which gave width can be performed.
And if many halogen line heaters are connected, heating of a large area will also be attained.
Required in absolute high power, although there is "cavernous heating method" as approach from another direction
In the rapid heating to carry out, the technique of field heating which is introduced here is a more effective means.
The direction which adopted the condensed type mirror can choose heating width freely rather than using a parallel light type (parabolic mirror), and the utilization efficiency of light becomes good.
(since a parabolic mirror is generally shallow and there are few rates which catch light)
Specification of standard type Halogen line heater "HLH-55W / f25 / L280 / H18 / 200v-5kw"
Mirror width 55mm
Focal length 25mm
Effective mirror length 280mm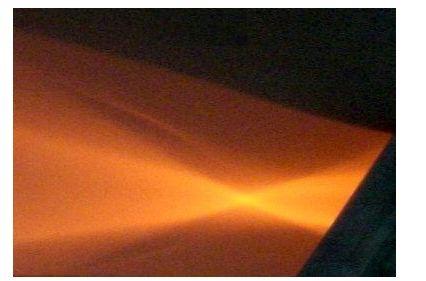 Like the photo above, condensed type line heaters collect the light most narrow area, heated to a high temperature the focus.
In addition, the light beam so spread at the position before and after the condensed, can also be used as a surface heater.
Benefits for parallel light types (parabolic mirror)
Heating width is more changeable by regulation of irradiation distance.
Since a mirror can be made deep, thus lamp light receives rate is high, therefore the light utilization rate becomes high.
The photo below is the irradiation width at the irradiation distance 40mm ~ 120mm line heater of focal length f = 25mm.
Yellow part is the high-intensity, high-temperature range, the red part is the low light part due to leakage light.
Irradiation width increases as the distance away, the heating temperature will also be lower.