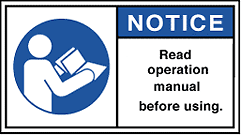 Safety Precautions
Please be sure to observe in order to avoid danger to the human body.

1.The base part and the lamp part of the halogen lamp become extremely high temperature during energization and immediately after turning on electricity.
Please be careful not to cause burns or fires.
Moreover, since the space near focal diameter part also serves as extraordinary high temperature, so the same cautions are required.

2.There is a risk of high pressure sealed glass bulb like a halogen lamp to explode.
If it bursts, the hot quartz glass will scatter, which is dangerous.
In many cases, after the filament breaks, an arc discharge occurs inside the lamp, which causes the internal pressure to rise and burst at high temperatures.
Alternatively, the molybdenum foil burns out due to the large current generated by the arc discharge, the quartz glass breaks, and the lamp bursts.
In particular, please note the rupture of lamp is likely to occur in a high-voltage arc discharge lamp occurs when the filament break.

3.In order to avoid this risk has been designed so that there is no danger to the human body, such as a fire or even explode. Please use the instrument under the conditions. Also, please insert the appropriate FUSE fast blow to the power line.

4. Halogen lamp light includes a small amount of ultraviolet rays that are harmful to the human body.
Since it is about 1/10 of sunlight, it is necessary to be careful when irradiating the human body with high illuminance for a long time.
Heating applications such as ultraviolet curable resin may require UV cut filter again.

5.Strong light is harmful to the eyes even if it is not ultraviolet.
Please protect user eyes with dark sunglasses, etc. If user see a spot of light collecting unit and the heater filament of the lamp is lit.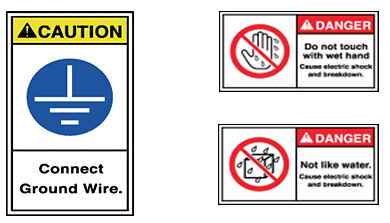 6.Do not wet the halogen heater. Please be grounded in the body for safety.

7.Please check to make sure that the power is turned OFF when replacing the lamp.
There is a risk of electric shock.