1.Features of HLH-60
1)HLH-60 can be heated up to 850℃ in a band shape.
HLH-60 is the line-shaped heating unit using a rod-shaped halogen lamp.
Since parallel mirror width is 60 mm, parallel beam(focal length ∞), so it can be heated iin a band shape and heating time is short.
In the conventional parallel light parabolic mirror, the depth of the mirror became shallow, many light leaked to the surroundings, and it became the primary cause of obstacle.
Also, the proportion of the amount of beam that the parallel mirrors can control is low, and poor efficiency was also a drawback.
However, this HLH-60 has a beam recovery type deep reflective surface, which simultaneously realized reduction of leak beam and improvement of beam utilization rate.
Long-length heating is also possible, parallel mirror effective length can be made from 100 mm to 3000 mm.
In the case of plate heating, it is better to arrange many "HLH-35W/f∞".
2)A perfect clean heating is realized, heating in a clean room or vacuum chamber is also possible.
The water-cooled type can be used by a vacuum chamber.
When it is placed in a vacuum chamber, there is gas emission which is slightly from inorganic glue in an early stage, so vacuum treatment is needed beforehand.
2.Outline photograph of HLH-60
3.Focus and Line size of HLH-60

[ HLH-60A/f∞/L280/200v-2kw 200v投入 ]

[ HLH-60A/f∞/L280/200v-2kw 25V投入 ]
The photo below is a thermal image of a heat-resistant brick irradiated from a distance of 30 mm.

The thermal image is divided into 10 parts of the condenser mirror area (280mm x 60mm) of the halogen line heater HLH-60,
Divide the maximum temperature in each divided range by the maximum temperature in the entire range to quantify the temperature distribution of the heat-resistant bricks.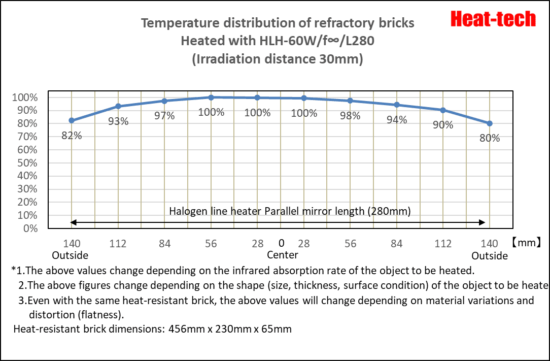 Since it is a rod-shaped lamp, the irradiation intensity is uniform, but the heat incident on the object to be heated is dissipated to the outside, and the temperature in the center, where heat dissipation is small, rises.
4.Temperature rising time of HLH-60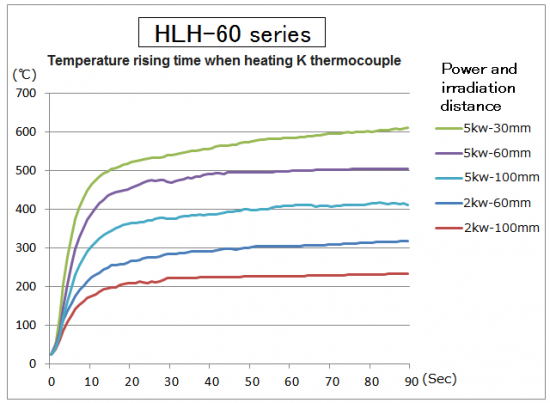 【Please note】
In infrared heating, the heating temperature changes depending on the infrared absorption rate of the object.
When it is irradiated for a long time, it becomes high temperature.
5.Voltage and lifetime of HLH-60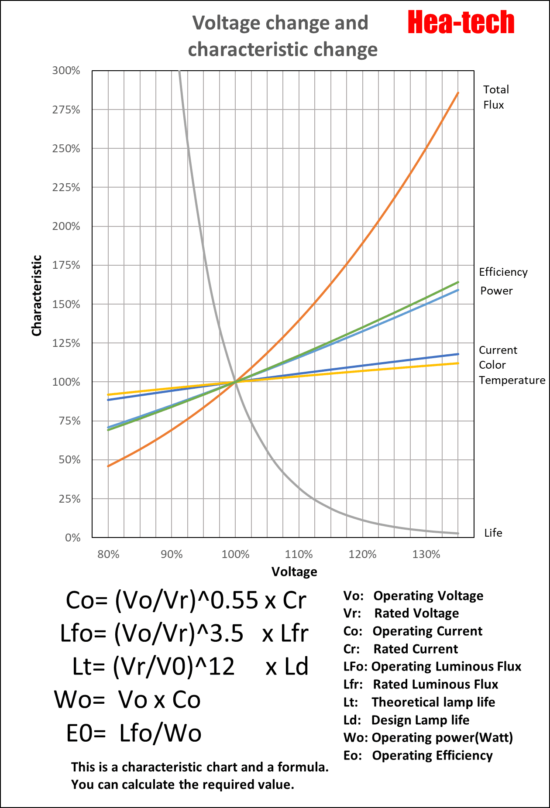 As shown in the above figure, if user lower it by 10% from the rated voltage, design life will be lengthens to 3 times.
If user lower it by 20% from the rated voltage, design life will be lengthens to 9 times.
6.Manual control → HCVD series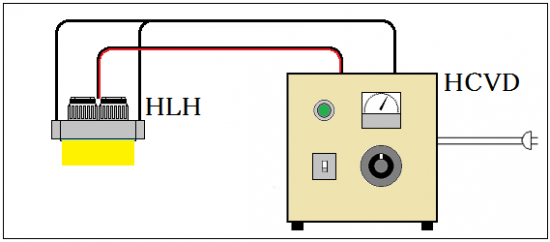 7.Automatic temperature control → HHC 2 series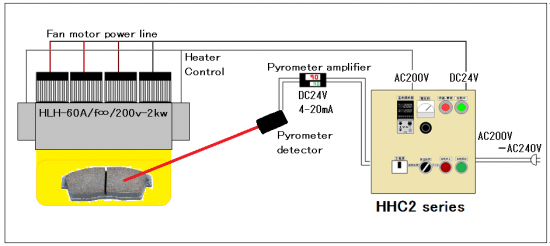 8.Configuration of HLH-60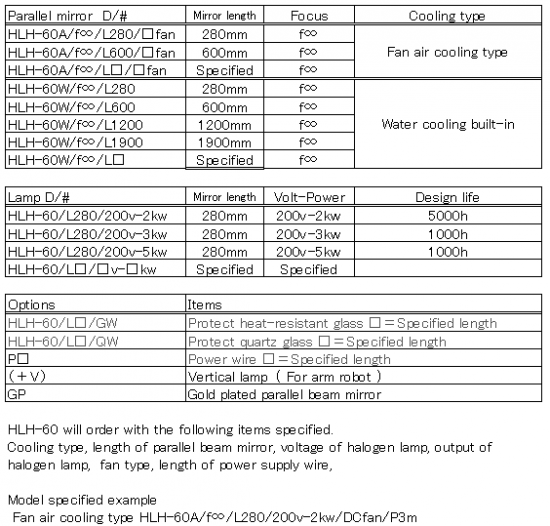 9.Outline drawing of HLH-60