The general flow of the proposed solution to the problem of Inquiry
1.Investigation and examination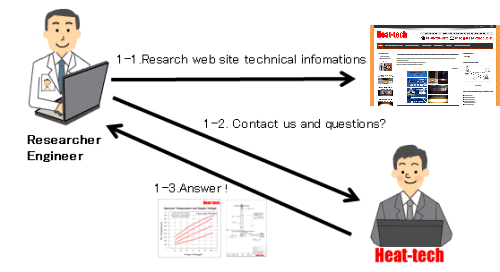 2. Purchase Flow

3.Transportation Flow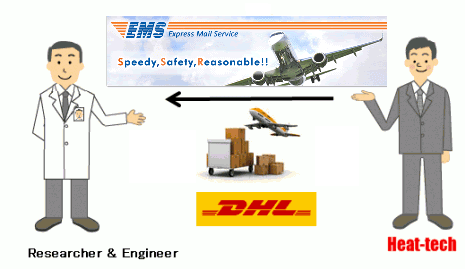 1. Contact Us
"How can this be? Want to do this! Be in trouble with this."
→Please contact message in the form below.
2. Request review and testing of condition
We are allowed to check an on-site situation and an operating condition by e-mail or telephone.
Necessary minimum may be sufficient when a detailed situation cannot be indicated outside with a newly developed matter.
Priority is given to a customer's feeling and it thinks to gether.
Moreover, it is also possible to provide a test piece and to test by the apparatus of our company.
3. Proposal
Based on requests and test results, we propose a solution to model selection and challenges.
4. Review and confirmation
4-1. Movie Library
Customer can check the heating situation in the movie.
→Please check Air Blow Heater Movie Library
→Please check Halogen Point Heater Movie Library
→Please check Halogen Line Heater Movie Library
→Please check Halogen Ring Heater Movie Library
→Please check Ir Panel Heater Movie Library
4-2. Test Labolatory
If customer required, customer can test the actual heater in Kobe of Japan.
→Please check Test Labolatory KOBE
4-3. Test piece heating
A test piece that was entrusted to us by our customers, and the heating in our company, we will verify that reaches a predetermined temperature.
5. Submit Quote Specifications
If customer required, we will submit quote and specifications.
→Inquiry&Contact Us or Request for quotation
6. Order
We receive an order sheet after confirming product specification, a price, time for delivery, and payment conditions.
7. Production
After confirmation of payment, based on an order sheet, we start manufacture.
8. Delivery
By the method of Incoterms 2010, we deliver to the customers appointed place.
International customers, we will deliver to customers designated customs broker, freight forwarder.
In the request of direct delivery to overseas, we arrange Worldwide Delivery Service, such as Yamato Transport ,UPS, DHL and  FedEx.
9. Question of use
It may not understand, unless it uses.
Inquiries in regard to customers, we will respond as soon as possible.
10. Introductory Education
On the customers who are examining introduction as an in-company standard, we will carry out introductory education using actual equipment.
* Charged the actual cost of travel expenses.
11.Product Information
For customers such as adding or discontinued of products and peripherals, delivered the news letter.
Terms & Conditions
1. Payment method
Paypal payments at the time of order.  ( U.S. dollar )
2. Business terms
Our trade conditions are FCA defined and interpreted by the Incoterms 2010.
3. Transportation method
Yamato Transport, UPS, DHL and FedEx
4. Packing
Cardboard boxes (maximum 30kg per box)
5. Transportation charge.
Yamato Transport, UPS, DHL and  FedEx estimates the transportation charge, and arrangements are executed vicariously.
Contact us
Request for quotation