Small Halogen Point Heater HPH-30
Point size is about φ5 mm at FocalLength15mm.
Can be heated up to about 1000 ℃ depending on the heating object.
Duration when used in soldering is about 5 seconds.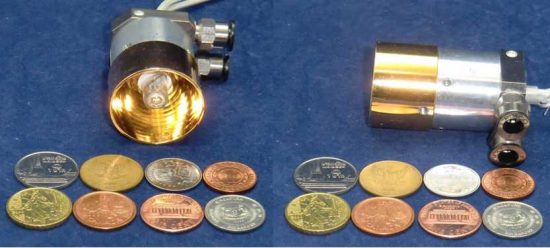 HPH-30 is to have no protective glass.
Specifications highly reflective gold mirror efficient design. Without protective glass.
Section is divided into the mirror and the lamp, can replace only the lamp or only the mirror.
There is a general specification product specification product and clean.
General Specifications of goods who is safe in normal use.
The clean room specification reduced the adhesive amount of consumption to the utmost in fixing of a lamp, used Teflon wire for wire and made、 it is supposed to use at a clean room and a vacuum chamber.
When the body temperature was and exceeded the heat-resistant limit highly, there is also a fault that trouble is easy to cause for Teflon wire, so attention is more necessary than the general specification items.
The internal temperature ≒ 300 ℃ (clean room specification 340 ℃), if you intend to use in continuous lighting must in use Water Cooling Unit.