The first-ever synthetic resin
Celluloid of the first time in history industrialized synthetic resin, was born as an alternative material of billiard balls are made from ivory.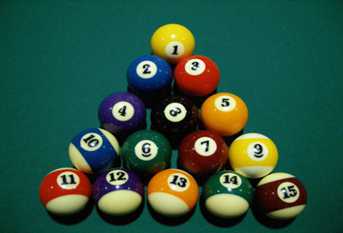 From ivory elephant one animal, it is said that it has not been able to produce a large amount of billiard balls than eight.
By growing ivory demand in the mid-1800s to be used for billiard balls, enough for the number of elephants that surprised were killed.
Extinction of elephants cried, billiards industry has felt the crisis for the supply of ivory.
Billiard ball, based in New York manufacturer, Ferrand-and-Korenda to set a $ 10,000 bounty, was recruited material of ball alternative to ivory.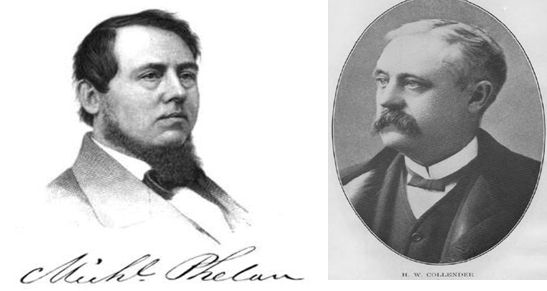 Phelan & Collender's Inc. co-owner
 (Michael Phelan April 18, 1819 – October 7, 1871) and (Hugh William Collender  December 23, 1828 - April 1, 1890 )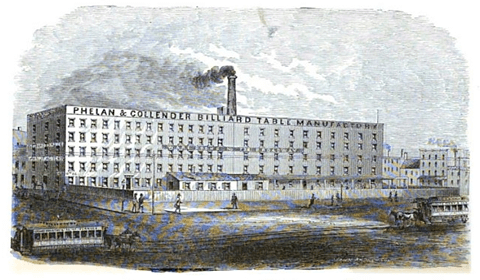 Phelan & Collender Inc.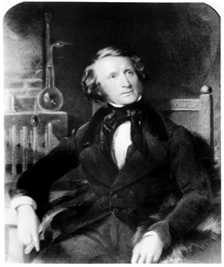 Alexander Parkes (29 December 1813 – 29 June 1890) 
Alexander Parkes was a metallurgist and inventor from Birmingham, England. He created Parkesine, the first man-made plastic.
Parks has been sold by naming it "Pakushin" has ended in failure from the cost of the problem.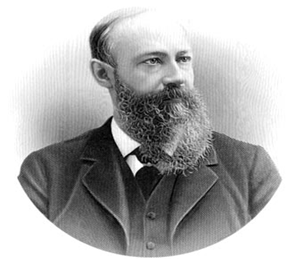 John Wesley Hyatt, 1837-1920
Aided by his brother Isaiah, he experimented with Parkesine, a hardened form of nitrocellulose, while researching a substitute for ivory to produce billiard balls.
Parkesine had been invented by the English Alexander Parkes in 1862, and is considered the first true plastic, although it was not a success as a commercial or industrial product.
Liquid nitrocellulose, or collodion, had been used as early as 1851 by another English inventor, Frederick Scott Archer, in photographic applications; it had also been used extensively as a quick-drying film to protect the fingertips of printers.
Hyatt's eventual result was a commercially viable way of producing solid, stable nitrocellulose, which he patented in the United States in 1869 as "Celluloid" (US patent 50359; now a genericized trademark).
In 1870 Hyatt formed the Albany Dental Plate Company to produce, among other things, billiard balls, false teeth, and piano keys, Hyatt's Celluloid Manufacturing Company was established in Albany, New York in1872 and moved to Newark, New Jersey in1873.
This would be worth approximately $177,175 today.
In parallel, a third English inventor, Daniel Spill, had independently developed essentially the same product, which he patented in the UK as "Xylonite". Spill later pursued Hyatt in a number of costly court cases between 1877 and 1884. The eventual decision was that the true inventor of celluloid was Parkes, but that all manufacturing of celluloid could continue, including Hyatt's.
The coal chemical age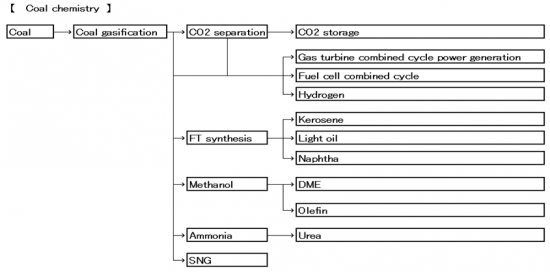 Use of coal other fuel same old, was discovered in ancient times, the fact that the burning stone was known.
Era down the time became a thriving steel industry in early modern Europe, I have come to be used on a large scale in order to wood is insufficient.
In addition, also used as a fuel of the steam engine, it was a big factor in the success of the Industrial Revolution.
Essentially coal is the mass of carbon is used as a fuel was the main applications. This does not change even now, but the fact that whether it is chemically what substance due to the evolution of the industry and chemistry came to be known.
In addition, coal gas generated by dry distillation of coal, also use of coal tar and coke went been established.
Coal gas has been discovered in 1600, and has been put to practical use as gas for lighting in about 200 years.
It was against the London of the 19th century of the fog this is the coal gas lamp.
Coal tar is found to be caused by the dry distillation in 1655 and was used as a solvent and a preservative.
Also, by each component is isolated by distillation of coal tar, benzene and toluene are discovered, we have played a major role in the progress of the chemical.
Aromatic compounds such as benzene, became the raw material of major products of chemical products, initial chemical industry such as artificial dyes.
In addition, coke, etc. When making pig iron, it has been used as ore of a reducing agent.
round 1910, the liquefaction method of coal by Friedrich Berugiusu (Bergius process) has been developed, and has been actively studied by developed countries that can not be secured oil fields such as Germany and Japan.
20 century petrochemical in the first half were born, and then when the benzene and toluene is as obtained by distillation and rectification, the mainstream of chemical raw materials went moved to petroleum.
However, as the possible adoption life of the oil is recognized to be a finite, liquefaction of coal has been attracting attention again.
Coal value as a fuel because it is a tendency that the use of coal is refrain from fear of global warming is unstable, but believed to continue to have a certain value as a high-purity carbon source present in nature.
Coal has a structure of a benzene ring or a pyridine ring, a polycyclic compound cyclohexane rings are condensed are bridged by an alkylene (-CH2-).
This is common basically from lignite to anthracite. The proportion of carbon is determined by the degree of condensation, and contains a certain amount of nitrogen or oxygen, sulfur.
The molar ratio is about 40% hydrogen, is not a simple carbon mass.
Further, such the gap of the polymer there is a small molecule low boiling point volatilizes at such carbonization, it is considered that when the dry distillation of coal such ingredients or weak bond is cleaved becomes coal gas or coal tarIt has.
Temperature necessary to dry distillation is 500 ℃ from 300 ℃.
Then, rayon cellulose such as pulp as raw material, the carbide can be from coal and limestone, such as polyvinyl chloride in the raw material has been industrialized.
Liquefaction of coal is done by the addition of cutting and hydrogen bonds between the carbon of coal.
This is known as the Bergius process, but the isomerization is carried out in order to increase the octane number in order to substitute gasoline, the catalyst used in this has also been developed.
The Petrochemical age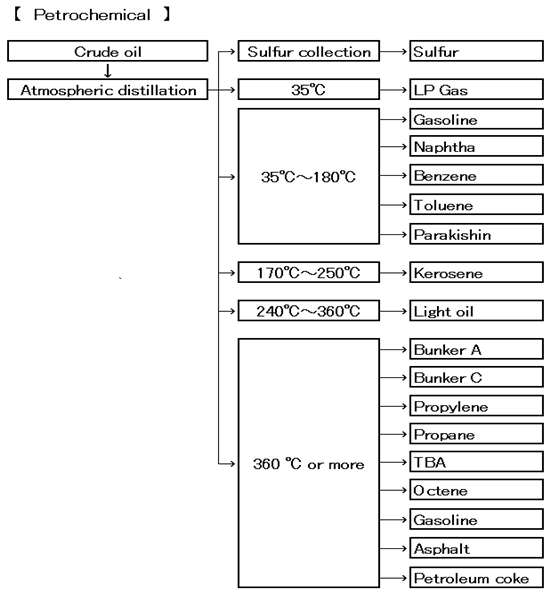 Oil has been known of its existence since ancient times.
In Mesopotamia and Egypt, it was used as a material, such as waterproof and preservative.
The oil began to be used as a material for chemical products is that about 300 years to be late for coal.
It became and its forerunner is thought to be that the American Standard Oil Corporation was synthesized isopropanol from propylene in 1920.
Now chemical products are made from later rapidly oil.
And polyethylene, not only synthetic fibers or synthetic resin such as nylon, the compounds were made by fermentation, such as acetic acid and alcohol also now be made petroleum as a material.
Engineering plastics usable as the industrial part is developed in the 1970s,
More advanced super engineering plastics are now used in the 1980s.
These synthetic resin has been attracting attention as a new material to replace the metal.