Ultra-compact line heater HLH-30W is a line light condensing heating unit using the stick halogen bulb.
We have superior characteristics such as (1-2 seconds degree) that super clean high temperature heating characterizing the halogen bulb heating, no medium heating (I allow the heating in the vacuum), boot-time extremely have a short.
The product concept "a small thing." It is microminiature with mirror 30mm in width, mirror part 34mm in height.
We devised the design of all parts!
The mirror side adopted an oval and a compound curved surface of Japanese yen and overcame a negative aspect by the downsizing.
As I lower it to the maximum while maintaining high efficiency, it is microminiature, and the best heating temperature is approximately 1,000 degrees Celsius.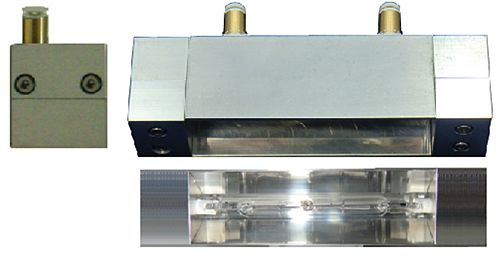 [ HLH-30W/f20/L84 ]

Change in focal length and concentrating width of the Halogen Line Heater HLH-30/f20
HLH-30W/f20 can be manufactured halogen lamp 100v, 110v, 220v, 240v, of 200w – 1000w.
(Standard of L84 is 220v-500w)
Length and width of the heating when combined lamps 500w to HLH-30W / f 20/L84 (about 30 mm length of about 2.5 mm × width).
HLH-30W can be manufactured up to 2500mm from the mirror length 84mm.
Outer diameter of the lamp so φ10.5, so it is necessary to provide the intermediate support more than 500mm length mirror becomes insufficient strength, I recommend HLH-55W/H18.
Cooling system is water-cooled φ4 tube connection.
It becomes the LHA-30 If you give the air-cooled unit.
(Voltage limit, or ON-OFF) to limit, forced cooling is not required body temperature becomes to 150 ℃ following the 100w or less average power.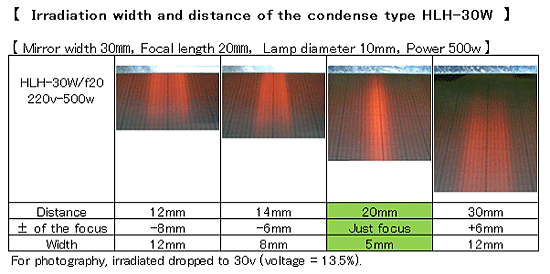 If HLH-30W is separated from a focal length (20mm), it can also perform heating which gave width.
Irradiation intensity is even, but the temperature of the center of the higher heat of the peripheral portion is run away.