1.Features of HLH-55
1)HLH-55 can heat up to a maximum of 1,350 degrees Celsius linearly.
The high-performance halogen line heater HLH-55 is a condensing infrared heating device that uses a rod-shaped halogen lamp.
The product concept is "the highest performance", it is possible to output up to about 2 kw per 100 mm condensing mirror.
In the line condensing type puts work on a conveyer as well as linear heating, and whole heating is possible if I irradiate it with a heater.
By using it apart from the focal position, heating with width can be done.
2) A perfect clean heating is realized, heating in a clean room or vacuum chamber is also possible.
The water-cooled type can be used by a vacuum chamber.
When it is placed in a vacuum chamber, there is gas emission which is slightly from inorganic glue in an early stage, so vacuum treatment is needed beforehand.
2.Outline photograph of HLH-55
3.Focus and Line size of HLH-55

If HLH-55 is separated from a focal length (25mm), it can also perform heating which gave width.
Irradiation intensity is even, but the temperature of the center of the higher heat of the peripheral portion is run away.
Refractory bricks are irradiated with HLH-55W/f25/L280 from a rated distance of 25mm.

The image below is a thermal image taken with a thermography camera.

The thermal image is divided into 10 areas of the condenser mirror range (280mm x 55mm) of the halogen line heater HLH-55,
Divide the maximum temperature in each divided range by the maximum temperature in the entire range to quantify the temperature distribution of the heat-resistant bricks.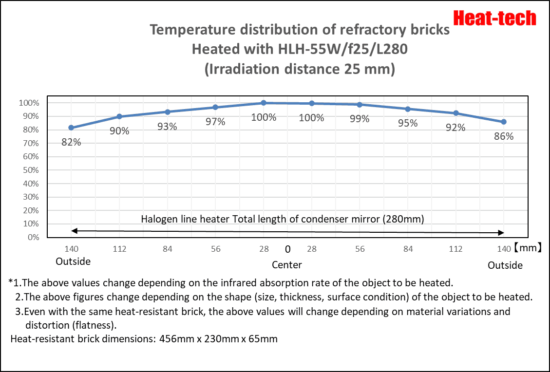 Since it is a rod-shaped lamp, the irradiation intensity is uniform, but the heat incident on the object to be heated is dissipated to the outside, and the temperature in the center, where heat dissipation is small, rises.
4.Temperature rising time of HLH-55
【Please note】
In infrared heating, the heating temperature changes depending on the infrared absorption rate of the object.
When it is irradiated for a long time, it becomes high temperature.
5.Voltage and lifetime of HLH-55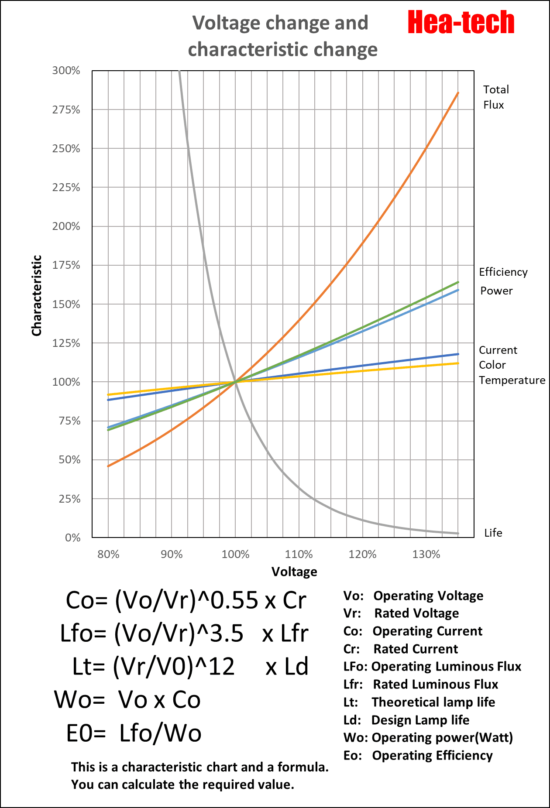 As shown in the above figure, if user lower it by 10% from the rated voltage, design life will be lengthens to 3 times.
If user lower it by 20% from the rated voltage, design life will be lengthens to 9 times.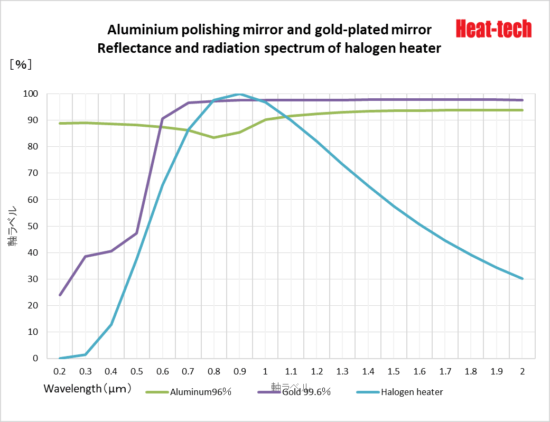 6.Manual control → HCVD series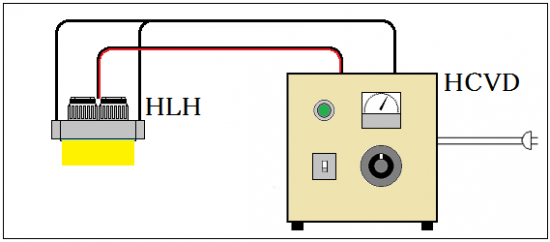 7.Automatic temperature control → HHC 2 series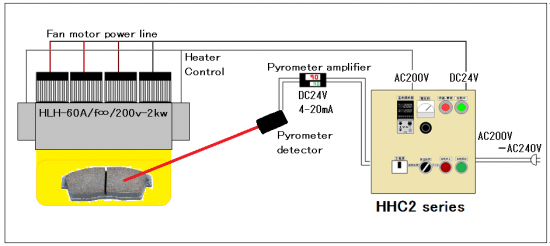 8.Configuration of HLH-55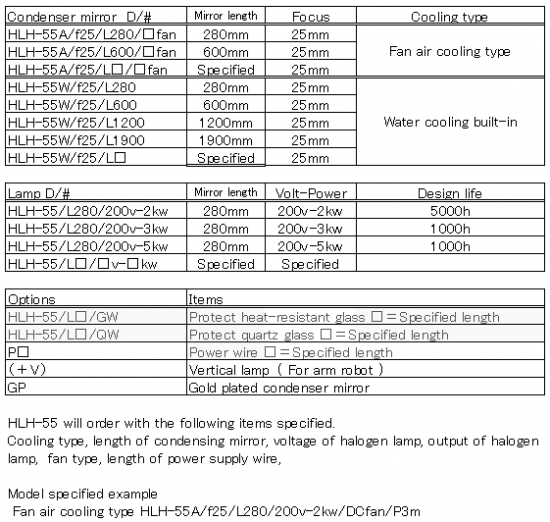 9.Outline drawing of HLH-55