For Clean-room , Chemical gas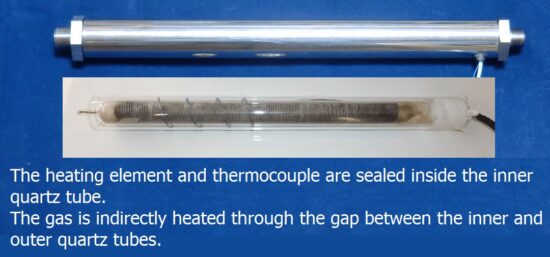 Feature
◎  This heater eliminated output of contamination to the limit.
◎  Because the heating element and the sensor do not touch gas, it is applicable also to heating of vapor or low-concentration corrosive gas.
○  The gas flow is heated indirectly in the gap of the outer glass tube and the inner glass tube.
△ The limit of this heater is an operating condition of heat-resisting rubber (Viton, Silicon).
X  We are not recommend for heating of fluids containing residual material within the heater.
◆ Output in a short time 500℃ hot air.
◆ Builtin a thermocouple in a hot-air output unit, can easily control temperature.
◆ Directly heated nitrogen can be used in the experiment of anaerobic microorganisms.
◆ Safe, Clean and just blow with electric heating and gas supply, fire flame will not come out.
◆ The DGH can be manufactured in a range of 100w – 12kw.
◆ Outside diameter 13-140mm, DGH is compact.
Types of available gases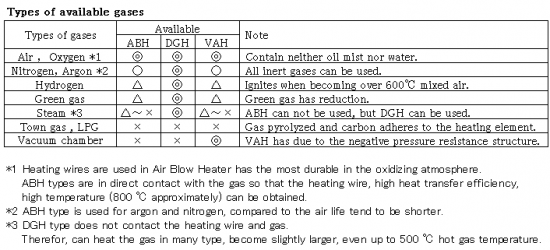 Configuration example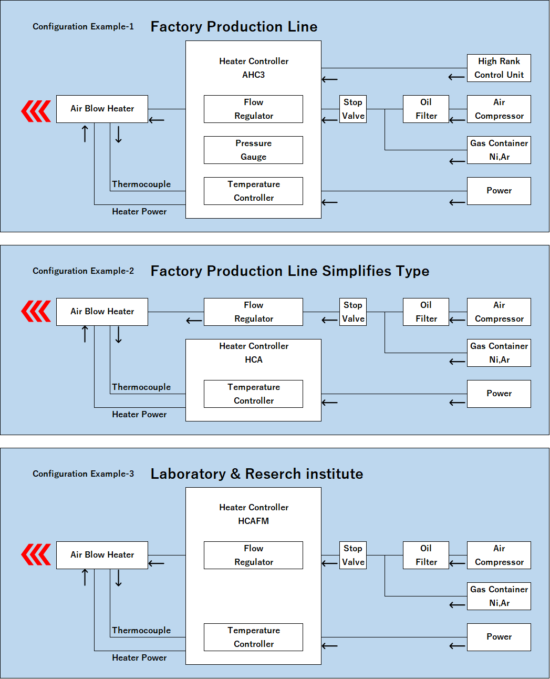 Basic structure of DGH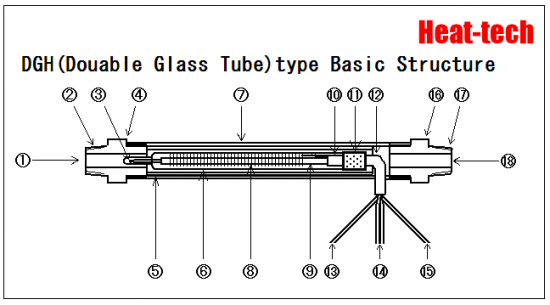 Hot air blow output
Screw for attachment
Thermocouple for output air temperature
HEX Nickel plated Brass
Outer heat tube Quartz glass
Inner heat tube Quartz glass
Metal case stainless SUS304
Heat element Fe-Cr-Al alloy
Insulation Alumina ceramics
Heat element tube base Steatite
Heat resistance silicon rubber
Sealing silicon rubber
Power wire Glass cloth or Silicon rubber
Thermocouple for output air Glass cloth or Silicon rubber
Thermocouple for heat element Glass cloth or Silicon rubber
HEX Nickel plated Brass
Air input connector Nickel plated Brass
Air input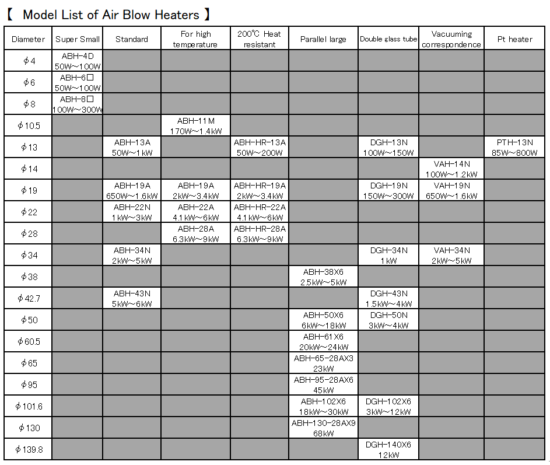 Catalog