1.Basic knowledge of Air Blow Heater
Please read before use.
Thank you for purchasing Air Blow Heater.
Please use it after understanding the contents of this operation manual.operation manual.Also in order to demonstrate the performance of this product enough, to prevent an accident and to maintain good operation over a long time.
Note
Please be sure to turn Air Blow Heater on electricity after ventilation.When it turns on electricity before ventilation, it burns out.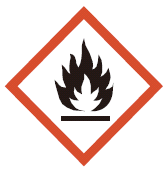 For safely use.
Air Blow Heater is a high temperature warmer which generates heat to the highest temperature of 1250 ℃ inside.
Please keep in mind that there is danger of a burn and a fire if it contacts carelessly enough.
1-0.Overview of the Air Blow Heater
The Air Blow Heater is the electric heater which supplies compression gas (about 0.05-0.5 atmosphere) to the metal pipe from the outside, and blowing hot wind.
The Air Blow Heater has 3series.
ABH series for general use, DGH series for clean rooms, and PTH series for more higher temperature using platinum heating element.
There are different varieties of shape, is almost the same basic structure.
1-1.ABH series Air Blow Heater (Standard Type Air Blow Heater)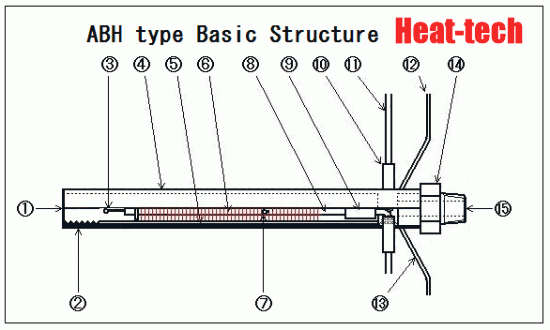 Hot air blow output
Screw for attachment
Thermocouple for output air temperature
Metal case stainless SUS304
Heat tube Quartz glass
Heat element Fe-Cr-Al alloy
Thermocouple for heat element
Insulation Alumina ceramics
Mount base Steatite
Insulating silicon rubber
Power wire Glass cloth or Silicon rubber
Thermocouple for output air Glass cloth or Silicon rubber
Thermocouple for heat element Glass cloth or Silicon rubber
Air input connector Nickel plated Brass
Air input
ABH series The feature of the Air Blow Heater
ABH series, heating element and heating gas contact directly.
Although the outside diameter is compact, the surface area is very large by a high-density heating element, and the difference of heating gas temperature and heating element temperature has heat transfer efficiency very as good as about 300 ℃.
Therefore, passage gas can be heated to about regular 900 ℃ / highest 1000 ℃.
The accuracy of the built-in temperature sensor (Optional parts)
The setup of heating temperature should measure the heating subject directly.
The built-in temperature sensor of the option should use the temperature at that time for an operation monitor, carrying out it.
The reproducibility of temperature is good.
When heaters are exchanged, the heating subject is measured directly and operation monitor temperature certainly needs to be re-set up.
Built-in temperature sensor life
Standard items use type K thermocouple as temperature sensor.
The small size of the heater can not use an enough thick thermocouple.
The type of the metal pipe, φ8 case is use φ0.5 wire diameter, φ13 case is use φ1.0 diameter wire.
On structure, since a temperature sensor passes along the center of a heating element, it becomes the same temperature as a heating element.
In many cases, the life of a thermo couple still does not become a problem.
When a ABH series is used hotly, the life expectancy of the built-in temperature sensor sometimes becomes insufficient.
In such a case, please specify a built-in temperature sensor by R type (platinum system).
The option symbol added to the model number is /+S (R).