Super Small Heating Device
High heating for Gas and Air,  Easy management temperature
 Simple, safe, clean, super-small high temperature heating device,
using air as ubiquitous material.
"Air Blow Heater" considers the resources problem,
and promotes the materials science reformative.
Air Blow Heater is in direct contact with the heating gas. Outside diameter is compact,
high density of the heating surface area is large, heated to regular 900 ℃ / highest 1000 ℃ the gas passage.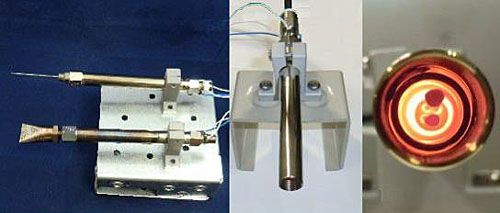 Feature
◆Hot output air temperature in short time of regular 900 ℃ / highest 1000 ℃.
◆Temperature controled easily by equipped with thermocouples.
◆Nitrogen and Algon can be heated directly.
◆Just output the air supply electricity heating, safe and clean.
◆This Heater have attached the nozzle to suit the shape and heated.
◆Air-Blow-Heater can be produced in range of 30w ~ 70kw.
◆Φ4 ~ Φ38 outer diameter, and ultra-compact heating unit.
This is a promotion video introduction of hot air heater and controller.
Follow up performance of the Air Blow Heater 1

Follow up performance of the Air Blow Heater 2

Main Applications
Heat Source of Heating Test
Drainer Dryness, Dehumidification
Preheating of Equipment, Processing Machine, and Carrier Machine
Preheating of Soldering and Printed Circuit Board
Deburring of Resin, Scratches repair of Resin, Resin Welding
Heating and Warming of Gas
Heat Contraction, Burning Insert, Hardening
Heating of Food, Dehumidification Dryness of Food, Sterilization Disinfection of Air
Types of available gases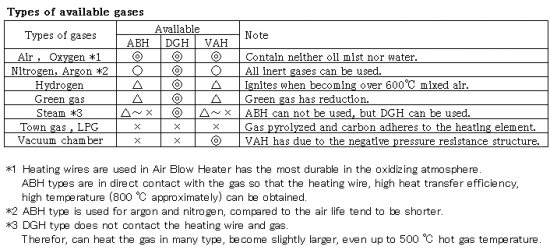 Basic structure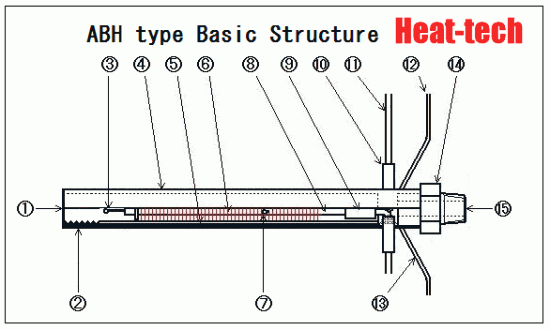 Hot air blow output
Screw for attachment
Thermocouple for output air temperature
Metal case stainless SUS304
Heat tube Quartz glass
Heat element Fe-Cr-Al alloy
Thermocouple for heat element
Insulation Alumina ceramics
Mount base Steatite
Insulating silicon rubber
Power wire Glass cloth or Silicon rubber
Thermocouple for output air Glass cloth or Silicon rubber
Thermocouple for heat element Glass cloth or Silicon rubber
Air input connector Nickel plated Brass
Air input
Configuration example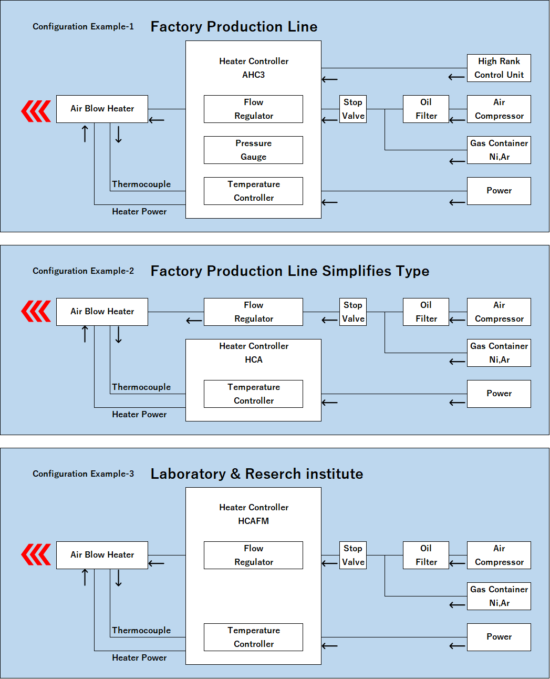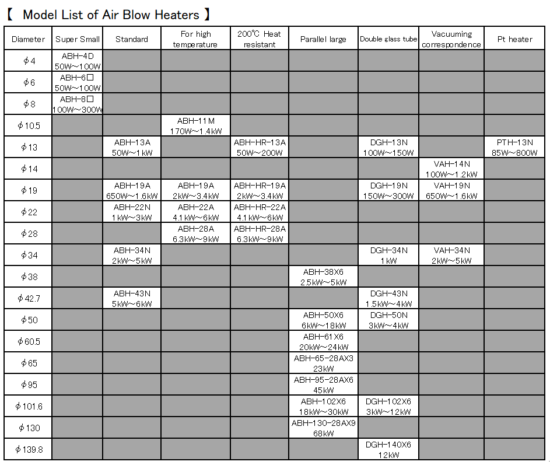 Catalog