Easily heating high temperatures!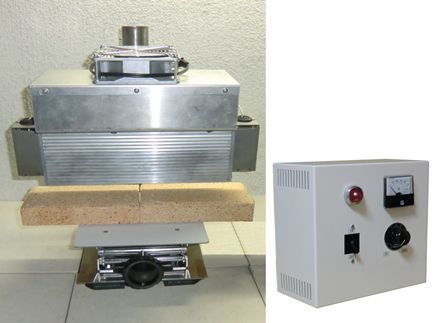 ◆ Feature ◆
Easily heating  high temperatures by the kit!
Easily plate heating  high temperatures at free range!
Easily adjusting  the radiation area by manual lift!
Easily changing  the heat power (wattage) by slide transformer!
It is so simple cooling system use cooling fan.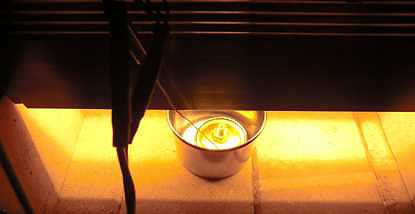 [ Soldering of metal parts ]
Can be varied to AC0v – AC220v in large volume of manual variable power supply.
Variable of the electric power is carried out by voltage adjustment, and heating temperature can be adjusted.
[ Heating of carbon fiber sheet ]
Heating can be uniformly Because it is a parallel light type.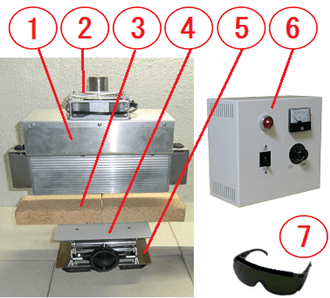 (Example of lab kit assembly. )
( *The lab kit is delivered as individual components. )
Halogen Line Heater HLH-60A/f∞-200v-2kw
The output of 2kw, to line heat the surface of the object.
Heater mounting bracket
Refractory bricks, This is useful when heating the test piece.
Manual lift.
Test stand base & pole
Manual variable power supply HCVD-AC200-240V/-AC200V-2KW
By varying the AC200-240v to AC0 – 200v in volume, user can adjust the heating output.
Equipped with DC24V power for air cooling fan.
Safety glasses against high intensity light
It can visually check the high-intensity irradiation point at maximum output.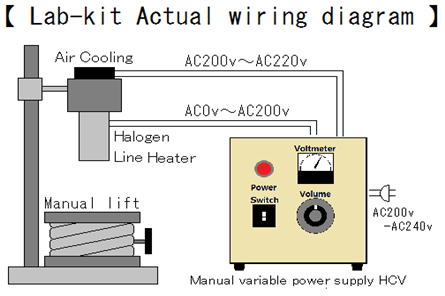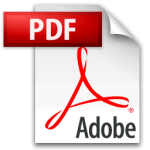 Halogen Line Heater Laboratory-kit HLH-60A/f∞-200v-2kw +HCV PDF Download