[ HLH-35A/f∞/L82 ]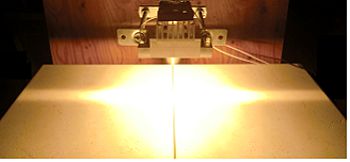 Ultra-compact line heater HLH-35A air-cooled is parallel beam heating unit using a rod-shaped halogen lamp.
It has excellent features halogen lamp heating,
Ultra-clean high-temperature heating
No heating medium
Fast start-up time, such as (1-2 seconds or so).
Made it difficult for water-cooled applications, 35 mm width mirror, are lines condensing type of 34mm height mirror.
Air cooling unit is larger compared to water-cooled goods, you can use simply because it does not require cooling water.
There is no difference in the basic performance in air-cooled, maximum heating temperature is about 1000 ℃ to HLH-35W same type of water-cooled.
Plane heating can be when you use side by side. Since air required for cooling and can not be used in a vacuum.
In the same parallel light type, HLH-60W with a light recovery type food is better in the case of single use such as long distance irradiation relatively.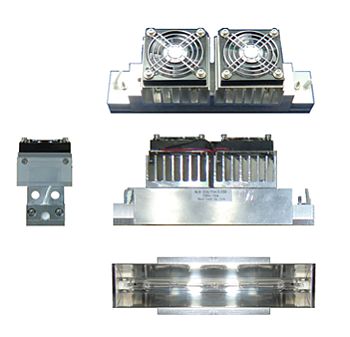 [ HLH-35A/f∞/L150 ]
HLH–35A/f∞ can be manufactured halogen lamp 100v, 110v, 220v, 240v, of 200w – 1000w.
(Standard of L82 is 220v-500w)
Length and width of the heating when combined lamps 500w to HLH-35A/f∞/L82 (about 35 mm length of about 2.5 mm × width).
HLH-35A can be manufactured up to 2500mm from the mirror length 82mm.
Outer diameter of the lamp so φ10.5, so it is necessary to provide the intermediate support more than 500mm length mirror becomes insufficient strength, I recommend HLH-60A/H18.
It requires a separate power of DC24v-0.2A for air cooling. I can use the small DC adapter available in stores this.
DC24v Power supply can also be supplied from Heat-tech.
Critical to the success of high-temperature heating surely, you must have little ingenuity along with the selection of the heater. Please adopt a "cavity heating method".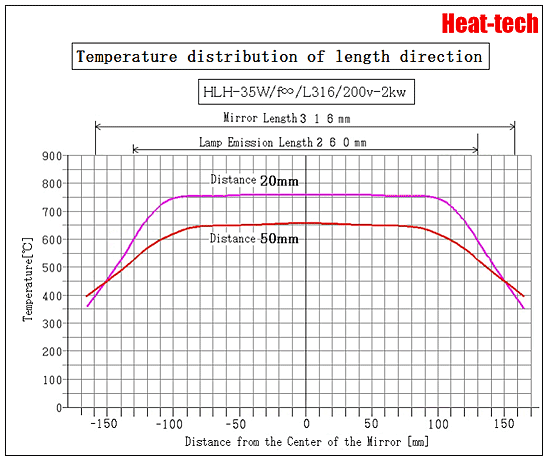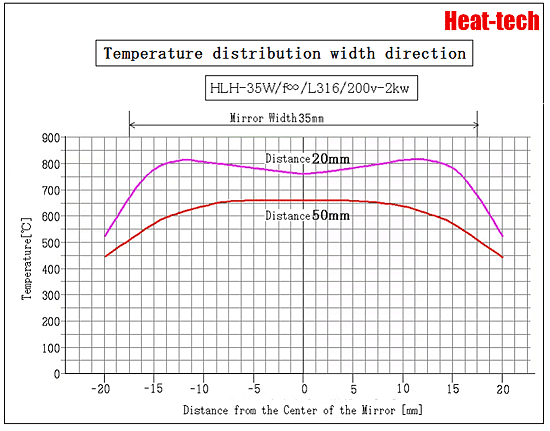 *Heating performance of HLH-35A is the same as the HLH-35W water-cooled type.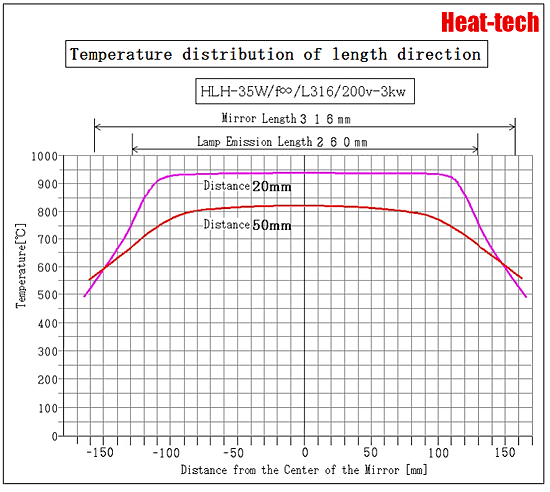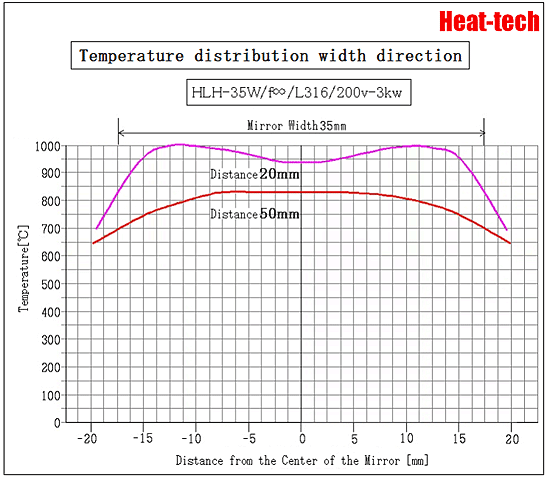 *Heating performance of HLH-35A is the same as the HLH-35W water-cooled type.