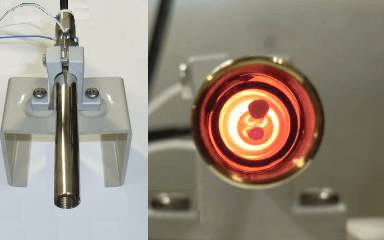 The withstand voltage of the Air Blow Heater is 0.3MPa for the H series and 0.4MPa for the S series. We can also manufacture the Air Blow Heater with higher withstand voltage by custom specifications.
The discharge pressure displayed by the air compressor is unlikely to be directly applied to the Air Blow Heater. This is because pressure loss always occurs in the process of supplying compressed gas from the compressor to the Air Blow Heater.
For example, if you throttle the flow rate with a flow control valve, the pressure will drop. For pipes of different diameters and bent pipes such as elbows, there is a pressure drop, which reduces the pressure in this process.
The definition of capacity to resist pressure of the Air Blow Heater indicates that it operates normally, and does not mean that the gas does not leak completely.
The power line of the Air Blow Heater often uses a glass-coated wire, and when high pressure is applied, some leakage will occur from the gap in the glass coating. More specifically, since the power line uses a twisted wire, a slight leak will occur from the gap of this twisted wire (a structure in which thin copper wires are bundled).
If the gas supplied by the Air Blow Heater is air or nitrogen, it is very safe even if it leaks.
This leak is a small percentage of the amount of compressed gas supplied to the Air Blow Heater and is usually negligible. It can be manufactured as a custom-made specification for special applications where even a slight leak can cause problems.